Texi drive:r Despite the show's ending 40 years ago, the cast of "Taxi" is still very close. Christopher Lloyd shared a photo of Judd Hirsch, Carole Kane, Tony Danza, and themselves eating lunch.
The foursome, who all co-starred on the popular television series "Taxi," were beaming as they posed for the picture. Why the hell is this happening? Lloyd wrote the image's caption.
From 1978 to 1982, "Taxi" aired on ABC before being picked up by NBC for one season from 1982 to 1983. Jeff Conaway, Danny DeVito, Marilu Henner, Andy Kaufman, and John Burns were also featured in the program.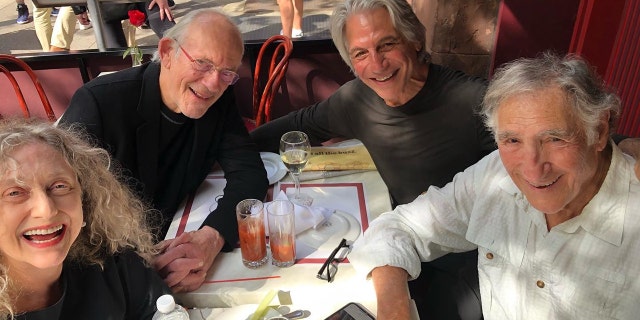 The program centered on a group of coworkers who handled life's ups and downs while working the night shift at Sunshine Cab Company. Kane and Lloyd joined the show first as guests and recurring roles before departing as full-time cast members.
Hirsch and Danza were series regulars from the start. Hirsch played Alex Reiger, the one everyone goes to for advice and the only one who considers cab driving his permanent occupation. Danza played Tony Banata, a Vietnam War veteran and aspiring boxer.
Simka Gravas, played by Kane, made her television debut as a guest in season two. She later returned to the program as a recurring character in season four, and in the fifth and final season of the program, she was promoted to series regular. She portrayed Latka Gravas, the wife and love interest of Kaufman's character.
What the hell is going on here? #taxi pic.twitter.com/47G9jofAtR

— Christopher Lloyd (@DocBrownLloyd) May 8, 2023

As the eccentric Reverand Jim "Iggy" Ignatowski, a former Harvard University student whose life transforms when he ate a drug-laced brownie, Lloyd entered the program as a guest in season one but was rapidly promoted to series regular status in season two.
Positive responses from fans flooded the comments section beneath Lloyd's tweet, with one asking if this reunion portends the release of a "Taxi" movie soon.
In a June 2022 interview with Fox 5 New York, Danza discussed his experience on the show and revealed that Henner, a co-star, was his first love interest in Hollywood. Danza spoke highly of her and the rest of his "Taxi" co-stars, proving that there is still affection between the former lovers.
Danza compared Henner to the straw that stirs a drink in her interview with the publication. "She puts together a zoom every month, and we all get together, the 'Taxi' cast, Jim Brooks, and we sit, we drink and eat and talk, and it's incredible," said Jim Brooks.
Danza expressed his disapproval of the idea of the popular show getting a revival when asked about it, adding, "I don't think you should do every show in a reboot." He continued by saying that the only reason networks keep recreating their classic series is because they are simpler to market than brand-new ones.
Danza went on to star in "Who's the Boss," alongside Judith Light and Alyssa Milano, and despite his hesitance towards a reboot of "Taxi," he is involved in a "Who's the Boss" reboot.